Most of the plastic waste can be pyrolyzed to obtain fuel oil, combustible gas and carbon black, for example, PP plastic, PE plastic, PS plastic, ABS plastic, etc. Different types of plastics have different oil yields, but the method of making fuel and gas out of plastic waste is the same, and the pyrolysis process is mainly: feeding-heating-cooling-gas recycling-carbon black slag discharge.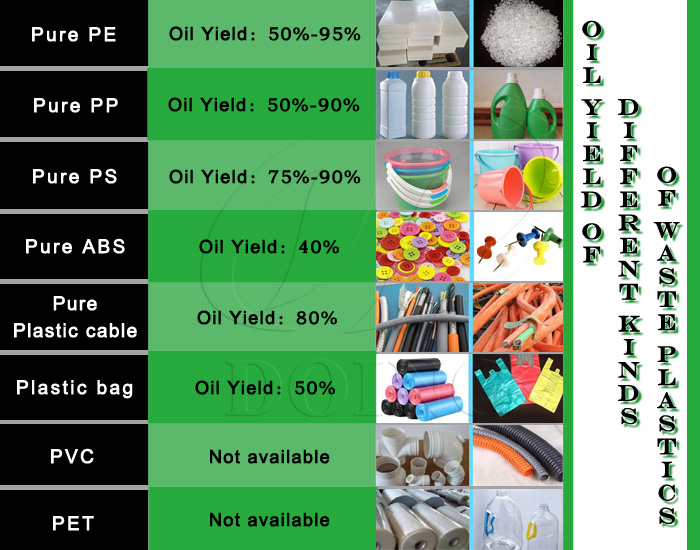 Different kind plastics has different oil yield
Now let's take DOING waste plastic pyrolysis plant as an example to see the detailed production process of plastic waste to fuel oil and gas.
1. Feeding: First, the plastic waste is transported into the reactor by the feeder;
2. Heating: The pyrolysis plant reactor is heated by the spray gun. And when the temperature rises to the set temperature, the pyrolysis process officially starts. Generally, oil gas will be generated after heating for about 2 hours;
3. Cooling: Then the produced oil gas will be condensed into oil through the cooling system and stored in the oil tank;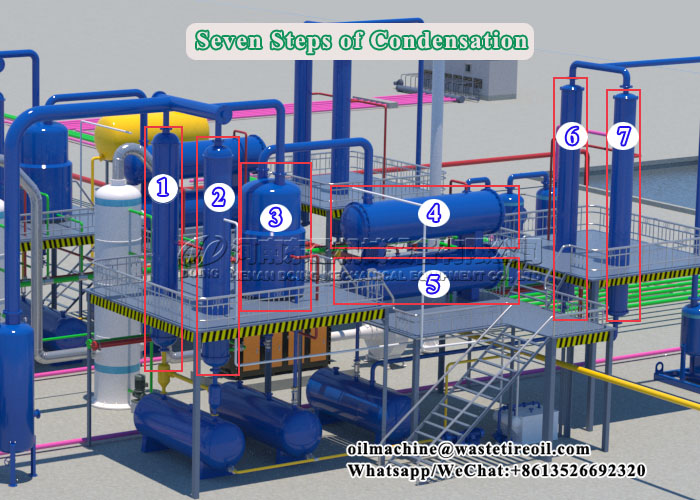 Cooling system

4. Gas recovery: In the pyrolysis process, in addition to oil gas, there will also be some flammable but non-condensable gases, which we call "combustible gas". This gas can be directly recycled for heating the pyrolysis reactor to save use of fuel;
5. Carbon black slag discharge: in the last step, the residual substances inside the reactor can be discharged to carry out a new pyrolysis process. These residual substances are mainly carbon black.
It's both eco-friendly and profitable to make fuel and gas out of plastic waste. If you have related plans to engage in related business, seize the opportunity!
Henan Doing Company specializes in manufacturing waste plastic pyrolysis plants and plastic oil to diesel refining plants. The 11+ years of technical precipitation have enabled us to have strong capabilities of R&D and equipment manufacturing. And our high quality machines are recognized by our customers in 100+ countries and regions. Welcome everyone to contact us or come to our company for inspection and cooperation.