There are many different types of plastic in our daily life, such as PE, PP, PS, ABS, medical waste, plastic bags, etc. And we can make oil from almost all kinds of plastic except the PVC and PET plastics. But the oil yields of different types of plastics are different, as the following picture shows.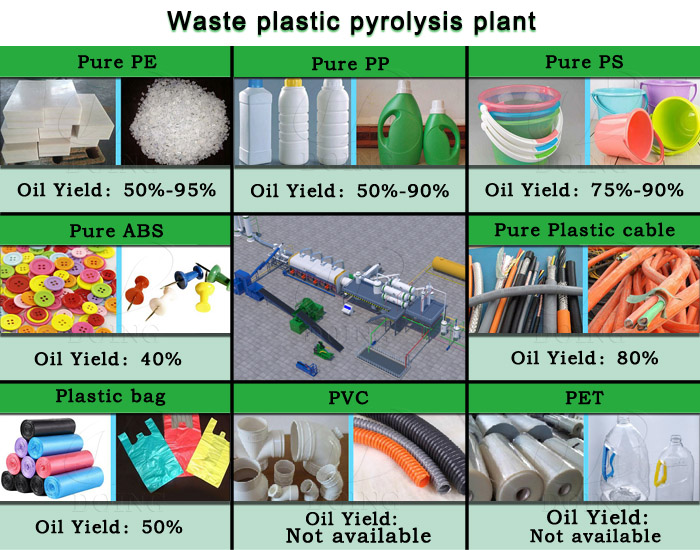 Different plastics with different oil yield

Many countries are studying how to deal with plastic waste in an environmentally friendly way. But the question is how to make oil from plastic and what machine can be used? Henan DOING company will give you a full explanation regarding making plastic into oil.
It's a brilliant idea and profitable technology -- ----Waste Plastic pyrolysis machine which could recycle the plastic into fuel oil, a very good heating fuel used in industries, such as steel factories, cement factories, glass factories, heavy oil generators, etc. And the fuel oil can also be further refined into diesel by the pyrolysis oil distillation plant. So, the most important thing is how the pyrolysis machine works to get oil from plastic?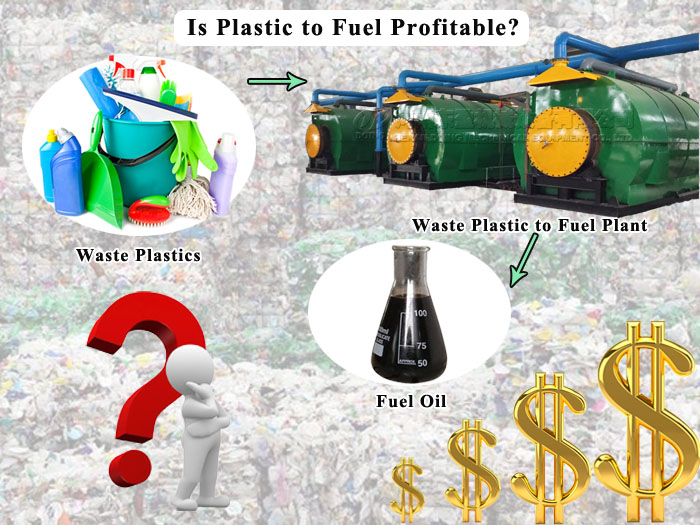 Waste plastic to fuel oil machine

Generally, waste plastic to oil processing processes are as below:
1. Heating processing of plastic pyrolysis
Put plastics into the pyrolysis machine reactor through the feeding door, and then the pyrolysis reactor needs to be heated for about 2 hours. Under high temperature and vacuum state, the plastic can be converted into oil gas. There is also some un-condensable gas, which will be recycled to heat the pyrolysis reactor and it can save the investment cost for pyrolysis machine operation.
2. Oil gas cooling system to get liquid oil
And then the oil gas will be condensed into liquid oil. DOING waste plastic pyrolysis machine adopts the most professional cooling system of industries, which includes 2 sets of vertical condensers and 2 sets of horizontal condensers. Also, there is a set of oil- water separator and two sets of cooling towers which definitely will get all the oil gas to be cooled down as liquid oil and flow into tank for storage. The high oil yield is one of the reasons why DOING pyrolysis machines are highly recognized by customers.
Henan DOING Waste plastic pyrolysis machines are popular on sale in 90+ countries, such as UAE, Bangladesh, India, Spain, Italy, USA, Australia, Russia, Mexico, Brazil, Botswana, Chile, Ukraine, etc. For more details, free quotation and running videos of waste plastic pyrolysis machines, welcome to consult us.