In August 2023, our Henan Doing Company successfully installed and commissioned a set of 14TPD waste oil refining plant in Indonesia for our client, who owns a chain of fuel stations.
The Indonesia client faced the challenge of managing and utilizing the significant amount of waste engine oil and waste motor oil collected during the regular oil replacement process.
Client Background:
Our client operates a fuel station across Indonesia. As part of their routine operations, they accumulate a substantial volume of waste engine oil and waste motor oil. Recognizing the importance of environmentally responsible practices, the client sought a solution to effectively manage waste oil while also exploring opportunities to extract value from it.
Project Objective:
Installing this set of DOING Brand 14TPD waste oil refining plant in Indonesia would enable our client to achieve two key goals: proper environmental disposal of waste engine and motor oil and conversion of the discarded resources into diesel fuel for commercial purposes. By implementing this solution, our client aimed to contribute to sustainable waste management practices and generate additional revenue streams.
Waste oil refining plant installed in Indonesia
Project Implementation:
Our sales and engineer team worked closely with our Indonesian client to manufacture and install a state-of-the-art waste oil refining plant. The plant incorporated advanced solid catalyst and distillation technologies for efficient processing and conversion of waste engine oil and waste motor oil into high-quality diesel fuel. It is more effective and has a higher automation degree than the common type acid and alkali refining technology.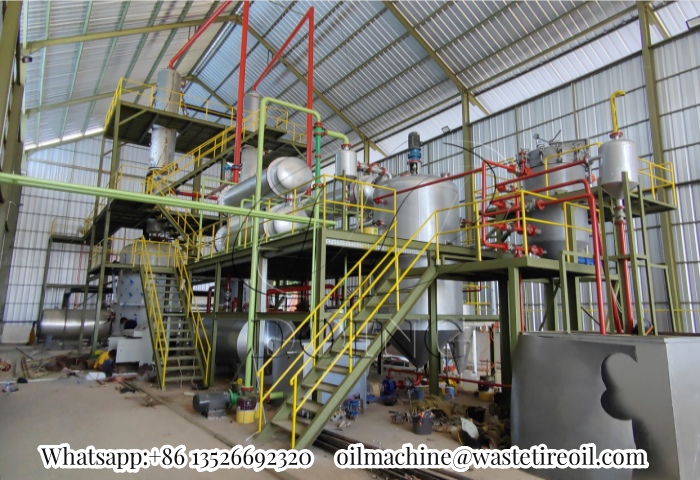 waste oil to diesel refining plant in Indonesia project picture
Benefits of installing waste oil refining plant:
Since the installation of the DOING Brand 14TPD waste oil refining plant in Indonesia, our client has witnessed significant benefits:
(1)Environmental Responsibility: The plant enables the client to handle waste engine oil and waste motor oil in an environmentally responsible manner, minimizing the negative impact on the ecosystem and reducing the carbon footprint associated with improper disposal.
(2)Resource Utilization: By converting the waste oil into diesel fuel, our client can effectively utilize previously discarded resources. The obtained diesel fuel can be sold to power plants or used in heavy machinery, such as trucks, tractors, and fishing vessels, thereby reducing the dependence on traditional fossil fuels.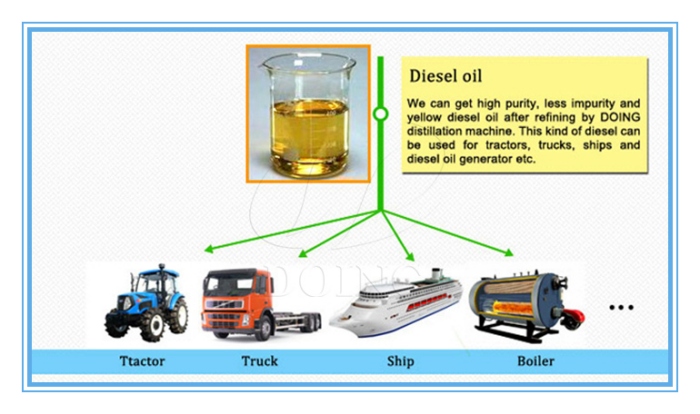 Applications of diesel extracted from waste oil refining plant
(3)Revenue Generation: The production and sale of diesel fuel have created a new revenue stream for our client. This additional income contributes to the overall financial growth and sustainability of their business.
If you want to address environmental concerns while harnessing the value of waste oils like waste engine/motor/lube oil/tire plastic pyrolysis oil, etc., welcome to send us your inquiry about DOING Brand waste oil refining plant. Our sales and engineering team will provide innovative solutions that align with your goals and contribute to sustainable development in the fuel industry.