Waste oil distillation machine is used to refine various kinds of waste engin oil into diesel. Due to its high efficiency in the oil distillation process, our waste oil distillation machine is very popular with our customers. Just recently we got feedback from our re-fined motor oil machine customer from India that he can put the diesel got from our re-refined motor oil machine in his diesel car directly and the car already run more than 1000km without any problem.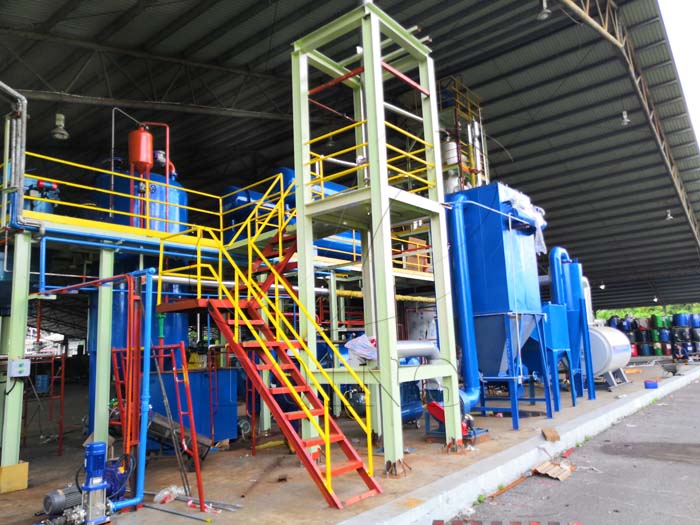 Waste oil distillation machine
DOING re-refined motor oil machine can effectively convert used motor oil into useful new energy. The number of cars and trucks will continually increase in the future as it has in the past. With the large number of vehicles on the road, owners of these vehicles must change oil. It is estimated that about half of car owners' change oil themselves. This adds up to millions of gallons used motor oil that must be disposed of each year. Used motor oil not only contaminates water supplies, it is full of heavy metals, slow to degrade and effects soils and wildlife. Recycling used motor oil gives automobile owners a safe way to dispose of their used oil, which can then be re-refined for automobiles using again or as the industrial heating energy. Next, let 't see how the waste oil distillation machine works.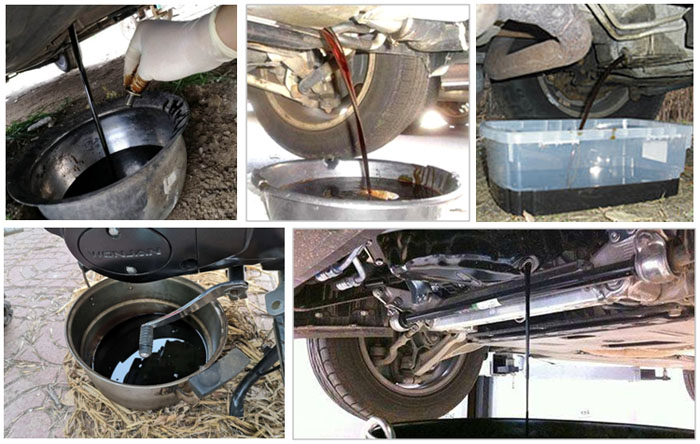 Motor oil change
Workflow of waste oil distillation machine:
1.Use heat conduction oil preheating system to preheat the entire system.
2.When the temperature of the heat conduction oil reaches 250 degrees, keep it for about 1 hour so that the moisture and bad emulsifiable concentrate contained in the waste oil can be fully volatilized; Continue to heat the heat condution oil to make the temperature of the distillation reactor reach 290 degrees, turn on the burner to heat, and control the temperature of the distillation reactor between 380 degrees and 400 degrees, and the oil gas will generate;
3. The oil gas are cooled down into diesel through the cooling system.
4. Use catalyst to deodorize the diesel and white clay to decoloriza the diesel, then we can obtain clean and bright-color diesel.
5. After the distillation reaction, the distillation residues in the distillation reactor is asphalt, which can be collected for road paving or sold to an asphalt plant for further refining.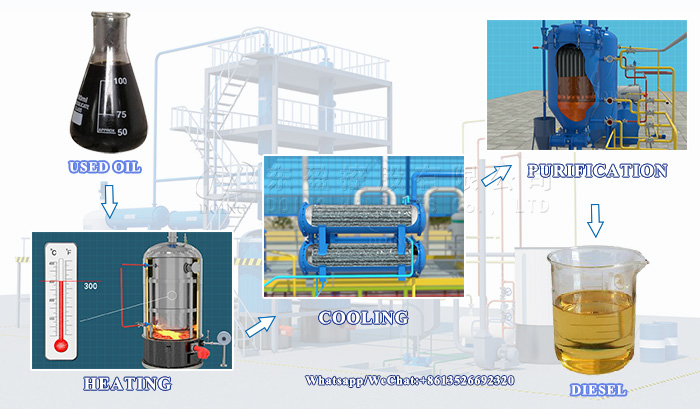 Workflow of waste oil distillation machine
We are a factory specialized in manufacturing re-refined motor oil machine for more than 10 years. The diesel output of our re-refined motor oil machine can be reach 85-90%. We can also provide different solutions to customers on used motor oil refining according to used motor oil quality and customers' actual situation. The final products of re-refined motor oil machine have a wide range of uses in life:
Diesel oil usage: mainly used for diesel generators, ship, boiler, heavy machinery, etc.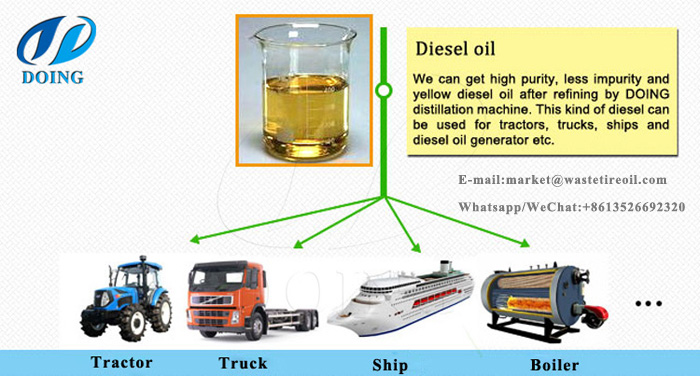 Diesel oil usage
Currently, we've launched our latest waste oil distillation machine which can make used motor oil more complete catalytic cracking and get better quality diesel. In addition waste engin oil, Doing Group waste oil distillation machine can also refine black and heavy oil, tire pyrolysis oil, plastic pyroysis oil,crude oil, etc. For details of our waste oil distillation machine, welcome to consult us feel free.