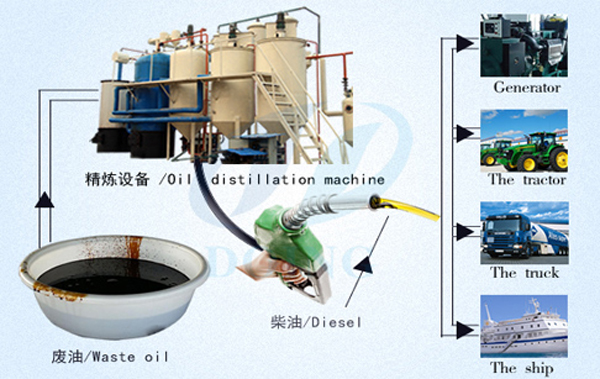 Waste oil to diesle plant
With the deepening of the energy crisis, many people now want to start the project of waste oil to the diesel plant. Maybe it sounds simple, but as a person in the industry for many years.We must tell you that usually buy the right equipment to determine your future profitability! ! The DOING company's refined distillation technology from waste oil to diesel plants can convert waste engine oil, crude oil, and cracked oil into high-quality diesel. If you have a lot of waste oil resources and want to invest in this project, consider DOING company as your cooperator! !
Waste oil to diesel plant working process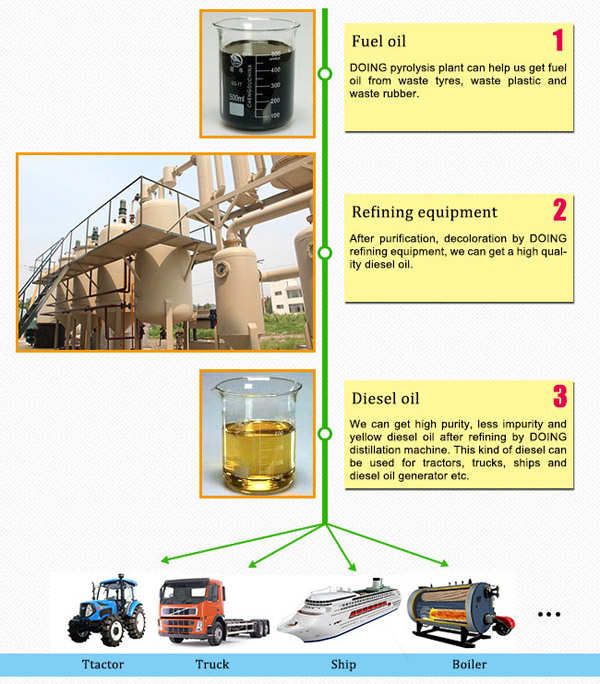 Waste oil to diesel plant working process
1. Pour crude oil, waste oil, pyrolysis oil, used engine oil, etc. into the reactor and heat the reactor.
2. When the temperature reaches a certain height, our waste oil to diesel plant will distill out light oil and gas, and some impurities.
3. Light oil and gas are liquefied under high and low pressure and fall into the tank.
4. Desulfurization and degreasing of the obtained diesel oil is a clean and transparent odor-free diesel product.
5. A three-stage dust collector is used to remove dust from the flue gas generated during the combustion process to ensure that the emitted gas is free from pollution.
Through this waste oil to diesel plant working process we can get 85-90% diesel, 10% bitumen, 5% water and other impurities. They have a wide range of uses in life: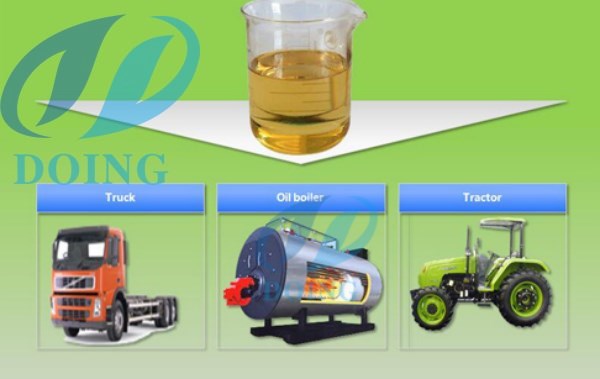 Diesel oil application
1. Diesel: Mainly used for diesel generators, light fuel, heavy machinery.
2. Asphalt: Mainly used for direct paving, or sent to asphalt refineries.
DoingGroup's unique advantages from waste oil to diesel plants: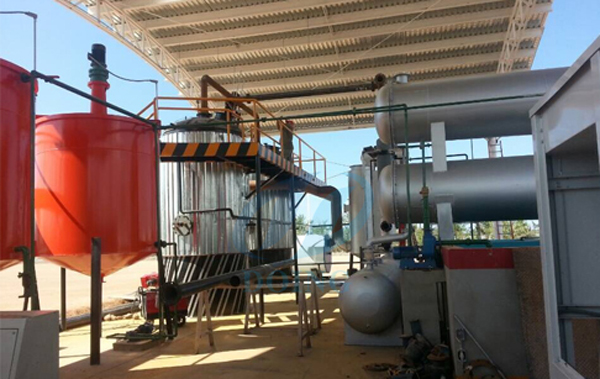 DOING waste oil to diesel plant
1. High oil production rate makes our waste oil to diesel plant more competitive in the market. The oil production rate can reach 85%-90%. Taking waste oil as an example, if the water content of the waste oil is less than 5%, the oil yield can reach 90%.
2. The operation is simple and the daily maintenance is relatively easy.
3. The waste oil to diesel plant saves energy. Because combustible gases can heat the reactor.
4. Environmental protection is one of its greatest strengths. Because it does not cause any pollution to the environment. So the factory complies with the environmental protection policy.
5. Quality is an important factor. We have passed CE, IS and SGS certification to ensure its quality.
Our plant is superior in technology and environmental-protection design. In addition, the service of our company is also first-class. You can enjoy the best the customized services and after – sale service if you buy our waste oil to diesel plant.