If you are choosing plastic pyrolysis machines and don't know where to buy them, you might as well come to Henan Doing Company to have a look. Believe that you can find a suitable plastic pyrolysis machine and buy it at a good price.
Henan Doing Company has been engaged in the R&D and fabrication of pyrolysis machines for years, located in Zhengzhou City, Henan Province, China. With excellent quality equipment, good service and reputation, it has been a leader in the industry. And our company has won first place in the list of "Top Ten Brands of China's Pyrolysis Plant Manufacturers".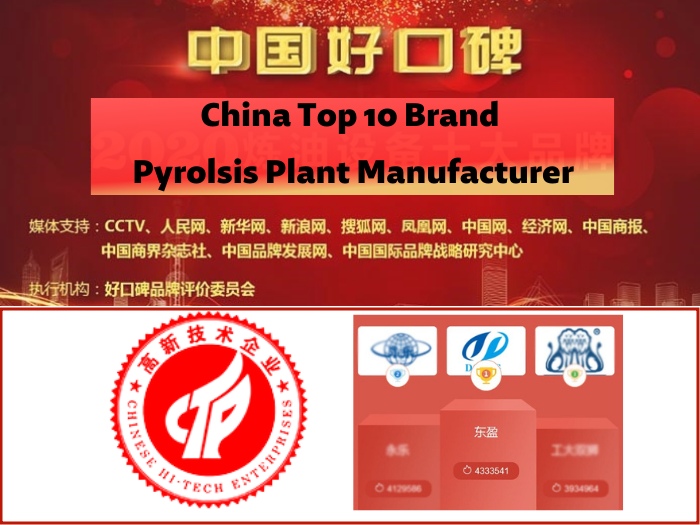 Certifications of Henan Doing Company

Based on customer's needs, we can customize the plastic pyrolysis machine with the daily processing capacity from 100kg to 50+TPD. And there are four types of pyrolysis machine designs for your choice: skid-mounted design, batch design, semi-continuous design, fully continuous design. Therefore, no matter what kind of plastic pyrolysis machine you want to choose, we can meet your needs.
DOING's waste plastic pyrolysis machine has high standards in terms of equipment material selection, welding, and manufacturing technology as the following picture shows. Therefore, our equipment stands out from many manufacturers and becomes the first choice of customers. And many customers have placed orders again and again to expand the scale of pyrolysis plant construction. And some customers purchased DOING pyrolysis machines through the introduction of regular customers.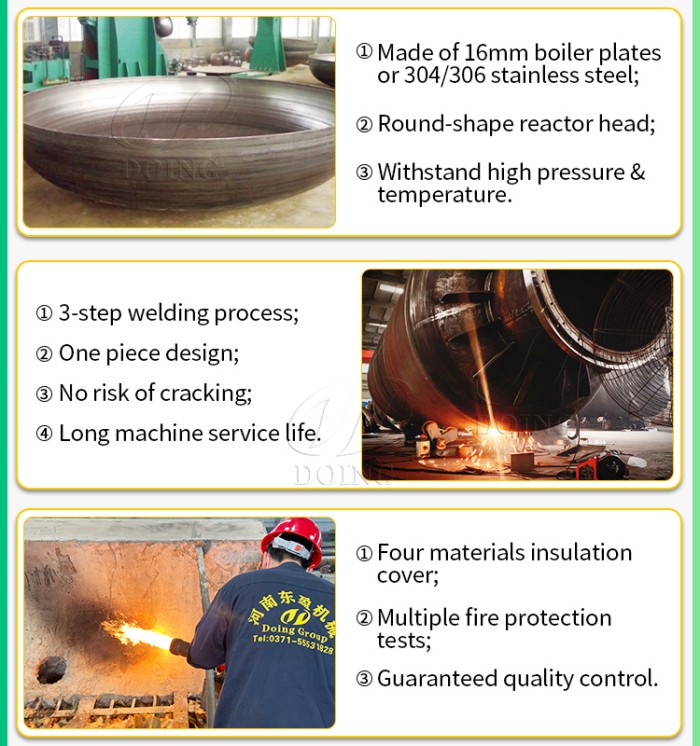 DOING pyrolysis machine design advantages

Till now, DOING pyrolysis machine has been approved and installed in more than 100+ countries and regions, such as:
Asia: India, Pakistan, Thailand, Malaysia, Philippines, Indonesia, Bangladesh, Kyrgyzstan, Kazakhstan, Mongolia, Georgia, Iran, Lebanon, Palestine, Arab Emirates, Jordan, South Korea, etc.;
Europe: Russia, Romania, Ukraine, Switzerland, Denmark, France, Czech Republic, UK, Latvia, Spain, Italy, Marston, Turkey, Albania, etc;
Africa: Nigeria,Botswana,Kenya, Burkina Faso, Ethiopia, Ghana, Tunisia, Senegal, Congo, Gabon, South Africa, Egypt, etc;
North America: Canada, Mexico, Haiti, Suriname, Jamaica, Chile, Panama, etc;
South America: Ecuador, Aruba, Colombia, etc;
Central America: Guatemala;
Oceania: Australia;
Recommended Reading: DOING Pyrolysis Machine Project Cases
Welcome to contact us freely and have a factory tour, and we will customize suitable plastic pyrolysis machines based on your requirements and guide you to start a plastic to oil reverse pyrolysis business in detail.