Nowadays, how to process waste tire has become a big problem in many countries. There I want to introduce a efficient and environmental protection way to make oil from waste tires. At the same time, we can also get carbon black, steel wires from waste tires.
Now some people want to know how to make oil from waste tires, right? Next I will introduce this process in details.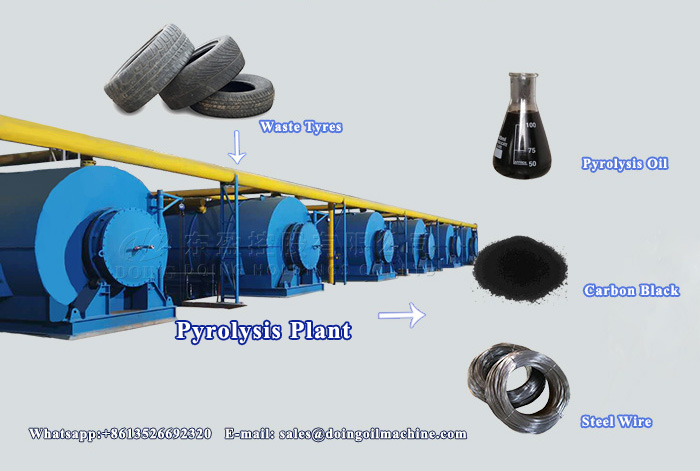 Make oil from waste tires
We mainly use thermal pyrolysis plant to pyrolysis the tires at high temperatures to generate oil gas. The oil output rate of ordinary car tires is about 40%, and the oil rate of truck tires is about 45%.The by-products are 30%-35% carbon black, 15% steel wire and about 10% tail gas.
The tail gas will be recycled to heating system to be used as the fuel directly, help to reduce the consumption of the fuel oil
The whole process includes feeding, pyrolysis, discharging three parts, the processing time is not fixed, depends on what capacity machine you install. In order to meet the needs of different customers, DOING has designed different processing capacity of tire pyrolysis plant, including, small, batch, and continuous. Small tire pyrolysis plant generally includes 500 kg per day, 1 ton per day. In fact, small devices are also batch devices. Here we refer to the batch pyrolysis plant generally refers to 5 tons, 10 tons, 12 tons and 15 tons of tire pyrolysis plant. The capacity of continuous pyrolysis plant is large, generally including 20 tons, 30 tons, 50 tons, 100 tons, etc. In addition to these, DOING Company also provides equipment customization.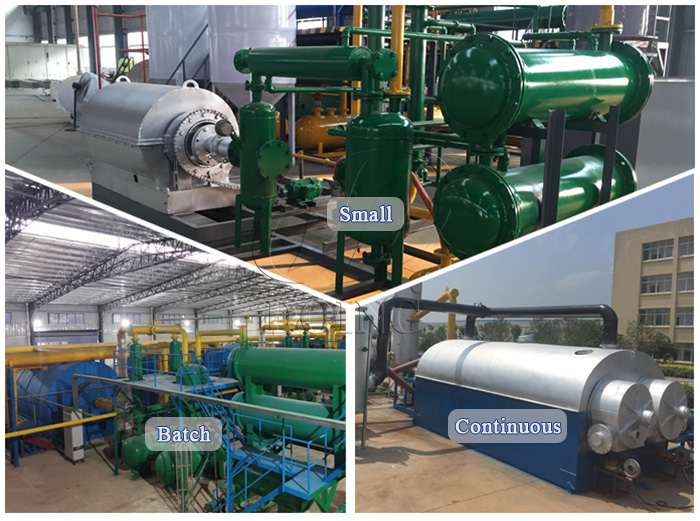 Different capacity tire pyrolysis plant
If you just install a 1t daily capacity machine, the process time is just about 7-8 hours, if you install a 10/12t daily capacity machine, the process time will be about 20-22 hours.
You need to hire about 3-4 workers to operate this pyrolysis plant, the most important worker is the one who control the fire, the temperature depends on the fire, and the temperature is the key to the pyrolysis, and the oil gas will be produced under the most suitable temperature.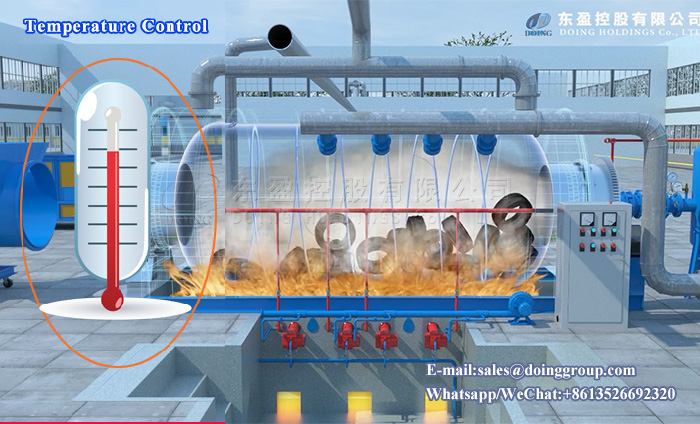 Temperature control
The oil yield is mainly depends on two factors: one is the quality of waste tires, second is the quality of the machine, so when you want to buy a pyrolysis plant, you need to know about the real situation of the manufacture, and compare the machines from different suppliers.
If you want to learn more about the details of the pyrolysis process and the tire pyrolysis plant, just feel free to contact us, we are DOING company who has manufactured this pyrolysis plant for more than 10 years.