No catalyst is needed to add in the tire plastic pyrolysis process. Because we can directly convert waste tire plastic into fuel oil through a process of pyrolysis technology which is generally the controlled heating of a material in the absence of oxygen.
In tire plastic pyrolysis, the macro-molecular structures of polymers are broken down into smaller molecules or oligomers and sometimes monomeric units. The final product of the pyrolysis process is heavy fuel oil and carbon black.
Here is the process flowchart of our waste tire plastic pyrolysis plant, which is mainly composed of feeding system, pyrolysis system, oil gas cooling system as well as environmental and safety protection system.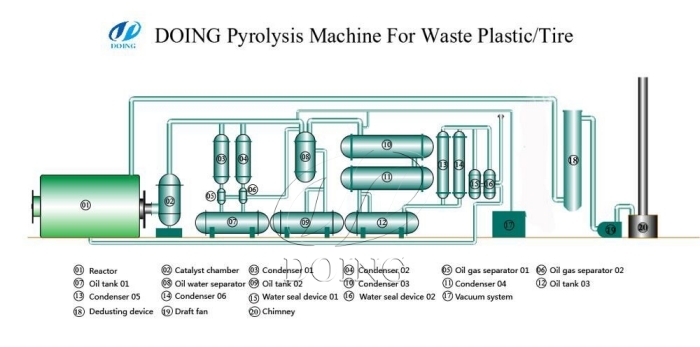 waste tire plastic pyrolysis plant working process flowchart

The general process of our pyrolysis technology for waste tire plastic is as follows:
1st-step: feeding process.
Waste tire plastic is fed into the pyrolysis reactor with auto-feeder or manually till the pyrolysis reactor is fully loaded.
2nd-step: pre-heating and pyrolysis process.
For start-up, the pyrolysis reactor can be heated with coal/wood/diesel/pyrolysis fuel oil/CNG/LPG. When reaching a certain temperature, waste tire plastic pyrolysis will get started and, meanwhile, there will be incondensable syngas produced as the auxiliary heating energy for the pyrolysis process.
3nd-step: cooling process
Our waste pyrolysis plant adopts 3-step cooling, each step cooling uses an independent cooling water circulation system to fully guarantee the cooling effect, and then ensure the oil yield. Among them, the oil-water separator not only plays the role of oil gas cooling, it is mainly used as the first safety device--water seal in the cooling system, to prevent the back-flow of oil gas, and also to clean the carbon black powder contained in the gas in the late pyrolysis process.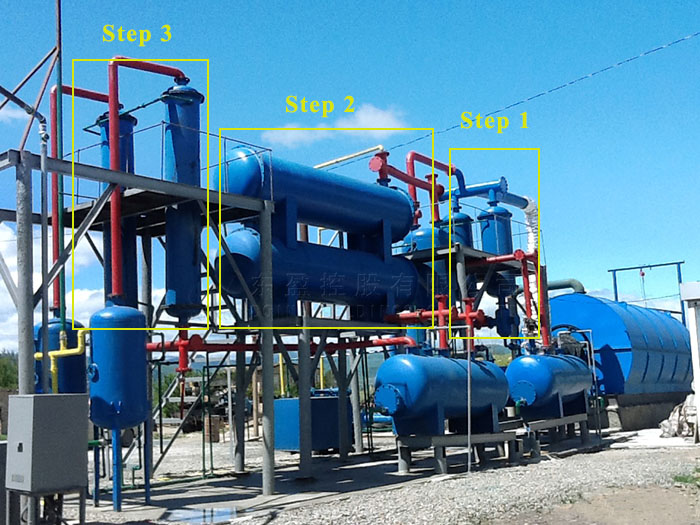 DOING waste tire plastic pyrolysis plant cooling system

4th-step: dedusting process
Water film dedusting system or higher standard smoke desulfuration scrubber are equipped with the pyrolysis reactor to clean the smoke by removing dust and pollutants. Besides, we also have patented smell disposal device available for customers to choose in the aspect of environmental protection.
Usually catalyst is used in the pyrolysis oil further refining process. For example, if our customer wants to get diesel fuel from tire plastic pyrolysis oil, we will recommend our pyrolysis oil refinery plant.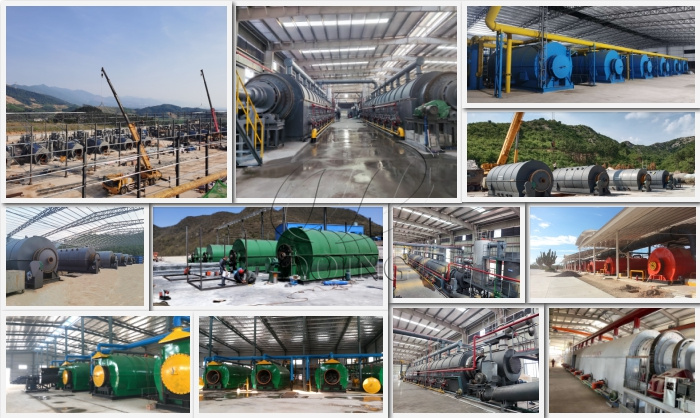 Waste tire plastic pyrolysis plant project cases

Henan Doing Company has rich experience in the manufacture, installation and project planning of waste tire plastic pyrolysis plant and pyrolysis oil refinery plant. The equipment installation footprint covers more than 90 countries and regions around the world, and our pyrolysis technology and refinery technology are mature and well received by customers!