Good news! On April 12, 2023, a Zambian customer ordered a set of 15TPD waste plastic pyrolysis plant from Henan Doing Company! He purchased the waste plastic pyrolysis plant to product heating fuel oil for his brick factory.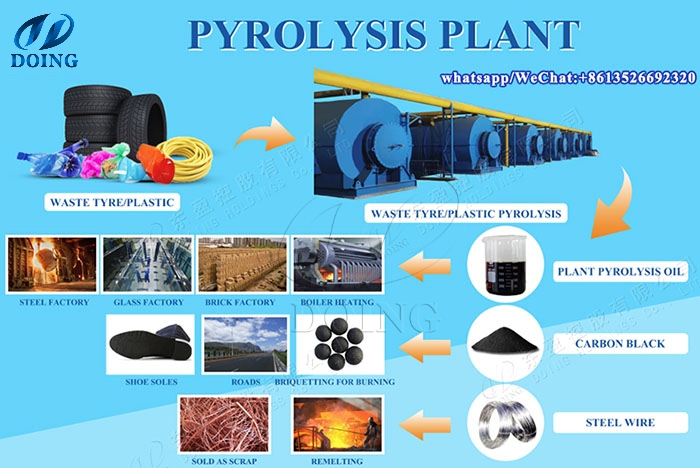 Waste plastic pyrolysis plant final product applications

Machine Configurations
The 15tpd waste plastic pyrolysis plant ordered by Zambian customer included the basic configurations like pyrolysis reactor, oil gas cooling condensors, environmental protection device. Besides that, he also chose to buy the optional device including heating burners, and the raw material feeding machine to improve the efficiency of the whole pyrolysis process.
Why did this Zambian customer choose to buy a 15TPD waste plastic pyrolysis plant from DOING Company?
Actually, this Zambian customer compared several manufacturers. But after he had a factory tour of our DOING Factory and learned the design and fabrication details of our waste plastic pyrolysis plant, he firmly chose us. Based on the machine wielding technology, the experience of waste plastic pyrolysis plant fabrication, supply and installation, and the price, we DOING company offered great service.
1. The welding of our waste plastic pyrolysis plant adopts a high-standard 3-step welding process to ensure the stability and durability of the equipment.
2. Our pyrolysis plant reactor is made of high-quality thick boiler-specific steel plate and arc-shaped pressure head. The equipment can withstand high pressure and high temperature, which has a long service life. And with multi-stage cooling systems, our waste plastic pyrolysis plant can guarantee high oil output.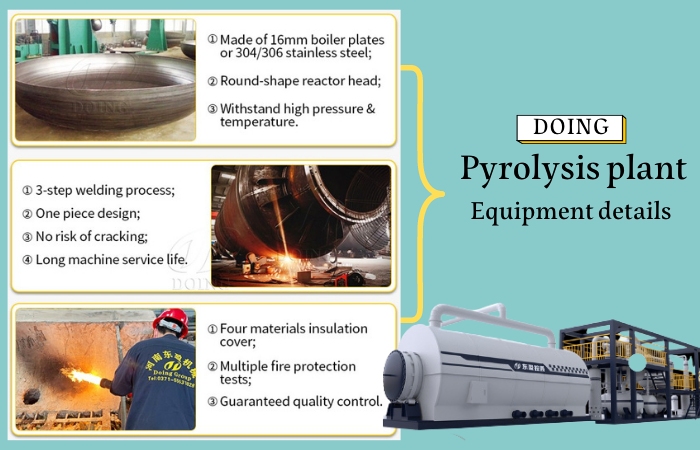 DOING waste plastic pyrolysis plant deisgn details

3. We have exported and installed pyrolysis plants in more than 100+ countries and regions. With rich experience, professional sales&engineering teams and a big independent manufacturing factory, we can help our customers develop the waste pyrolysis business more smoothly!
Our waste plastic pyrolysis plant can help the Zambian customer make full use of the cheap waste plastic to produce the pyrolysis oil. The obtained fuel oil is a good heating fuel for his brick factory, which can save his operation costs and make more profits.
If you also want to engage in the waste pyrolysis business and produce fuel oil to make great profits, just feel free to leave your inquiry about our waste waste plastic pyrolysis plants. Our sales manager will contact you and offer a good solution and quotation.